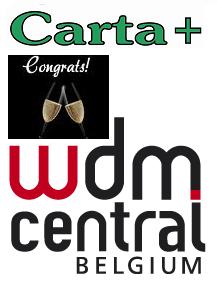 Today, we just want to share some nice article from Dirk Milbou about loyalty marketing  posted on WDM Central yesterday!
'Running a loyalty program becomes 'simple' if you compare it with a love affair. If you take your love seriously, you don't go for a one night stand, but for a durable relation. In a love affair, just like in loyalty programs, it's about 'give and take'. Of course, you have to check out sometimes if your love is 'as hot as ever'. If that's no longer the case, you should talk as open and quickly as possible to resolve it. Do not all the talking yourself, because if you don't 'listen', there will be no 'understanding' in your relation. Make sure you to surprise your partner so now and then, but be aware : don't exagerate, your love might become suspicious 🙂
OK, I know, your loyalty program is polygamie, not monogamie. You want a durable relation not with one but with as many as possible customers. So this is what the above means in terms of a customer loyalty program :
* inform : keep up the contact with your loyal customers. Enhance existing, intrinsic contact points (such as a bill, a delivery note,…) and create additional positive contact points (like a newsletter, a customer magazine, a blog,…)
* interact : make the contact mutual, easy to dialogue and evolve from a "price and product monologue" to an "added value dialogue"
* individualize : take personal actions and motivations into account and install triggers in your database to honour these with the right message at the right time.
* inspire : bring the relation into new area's and introduce your 'family and friends'. (i.e. cross sales and up sales :-). Take your loyal customers on a stimulating journey Stimulate discussion amongst them to inspire each other.
* integrate : use the internet (even mobile) as an integrator of your relation. Let customers qualify themselves, capture their data and interactions and keep up the added value information supply (reviews, quotes, tips and tricks, news, blogs, tools to share things amongst each other,…).
* initiate : embrace the negative (as apathy is the biggest problem in love affairs) making it easy to initiate inbound questions and complaints. Qualify and handle these straight forward and don't forget to track and trace them with endorsed follow up. Act upon historic requests and deliver alerts of new information.
Technically speaking, just like in a long lasting love affair or a marriage, your loyalty program creates bonds at different levels : an emotional bond (where your customer feels appreciated and part of something bigger) a financial bond (remember to give real value and not only "rewards") and a structural bond (mechanisms that encourage customers to stay with you and build exit barriers)
So, what is key to run a loyalty program and create bonds at all levels succesfully ? Key is a database with a single customer view and actionable data. Key is using data intelligence to create relevant customer segments in your database. Key is to monitor each segment with KPI's and a loyalty scheme adapted to each type of segment. Key is to personalize your contact strategy using tools and cross channel media per type of customer type and type of message you want to pass along.
And yes : go beyond the call of duty for your love, do something he or she didn't ask for and you will see : your love will not only be loyal but delighted !'
Author: Dirk Milbou
Source: http://www.wdmcentral.be/2010/07/loyalty-is-like-a-love-affair-2/